Welcome to The Power of Pilates at Meridian Park Studios!
Meridian Park Studios is a new beautifully renovated Indianapolis Pilates Studio located in historic Meridian Park neighborhood. MPS offers private and duet Reformer, Chair, Tower, and CoreAlign sessions by appointment as well as group mat Pilates and Barre classes.
Pilates is a physical fitness system that improves functions of every day activities with an emphasis on increasing core strength and overall stability and flexibility of the body. Attention to alignment, posture, active breathing and connecting the mind to the body are also cornerstones of Pilates. Clients improve strength, balance, mobility, spinal health, without impact to the joints.
Like Pilates The Barre Method strengthens core muscles and  improves posture without impact to the joints, but with an emphasis on the lower body. The misconception with the Barre Method is that it is you have dancer background, when in reality the exercises are accessible to the average population.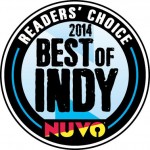 The Power of Pilates was a 2014 Best of Indy Honoree